The Team
Ben Lamb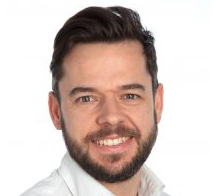 Ben Lamb is a Consultant Urological and Robotic Surgeon at the Department of Urology, Cambridge University Hospitals NHS Foundation Trust. His practice includes general urological conditions, with a sub-specialist interest in prostate cancer, bladder cancer, and robotic surgery.
Ben is trained in general urology and has undertaken sub-speciality training in prostate, bladder and kidney cancers. In addition, Ben is fellowship trained in robotic surgery and has performed over 300 robotic operations.
Ben studied medicine in Cambridge and London, before completing his specialist urological training in hospitals in the south east of England, including 2 years of robotic surgical training at UCLH. Ben has recently returned from undertaking a fellowship in urological oncology and robotic surgery at the Peter MacCallum Cancer Centre, Melbourne, Australia.
Ben sees patients with a range of symptoms, from lower urinary tract symptoms (LUTS), symptoms of prostatism, urinary tract infections (UTI), testicular lumps and testicular pain, blood in the urine (haematuria) or semen (haematospermia). Ben also sees patients who may have no symptoms, for example men concerned about their PSA results, or wishing to find out about PSA test or prostate cancer, or any other urological problem.
Ben tailors his approach to robotic radical prostatectomy (RARP) according to his patients' needs and always discusses the benefits and risks of strategies intended to improve recovery (e.g. nerve sparing, bladder neck sparing, urethral sparing, membranous urethral length, anterior Retzius-sparing), and those intended to maximise the chance of cancer clearance (wide excision, non-nerve sparing) when planning surgery. Ben believes in a shared, holistic, patient-centred approach to surgical decision making that combines his professional expertise with those things that matter most to the patient. The result is that Ben performs nerve sparing in over 80% of his patients, who generally have excellent recovery of continence with 80% and 96% using no or one safety pad per day by 6 and 20 weeks, respectively, whilst maintaining an acceptable overall rate of positive surgical margin (21.7%) compared to the national average (26.6%).
Alongside his clinical practice Ben has a research interest is multidisciplinary cancer teams, or MDTs, and he has written and presented work on decision making, non-technical skills, and leadership in MDTs. Ben also enjoys teaching medical students, doctors and allied healthcare professionals on a wide range of topics from communication skills to MDT working to Urological Sciences.